*** Click on Bottom Images to View Full Size Images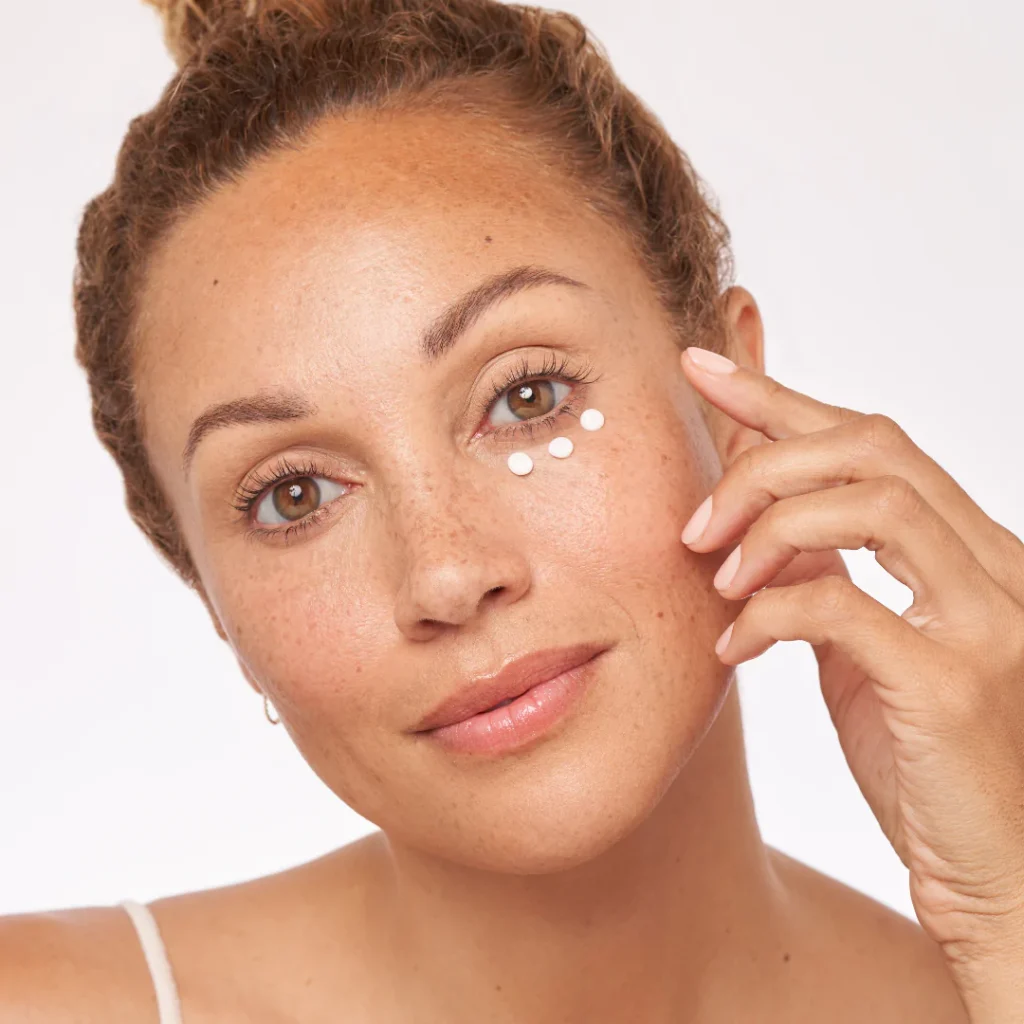 The Eye Serum that Does It All
Designed to reduce the appearance of puffiness and dark circles while smoothing the appearance of fine lines and wrinkles around the eyes
Benefits:
Reduces the appearance of dark circles.
Helps smooth the appearance of fine lines and wrinkles.
Diminishes the appearance of puffiness.
Promotes a more even skin tone.
Includes TriHex Technology® to support the production of new, healthy elastin and collagen.
Winner of InStyle Best Beauty Buys 2019 & 2020 "Best Anti-Aging Eye Cream" award.
Winner of Women's Health "Best Eye Cream for Combination Skin 2021" & "Best Eye Cream for Sensitive Skin 2021" awards.
Non-Comedogenic, Hypoallergenic
Key Ingredients:
TriHex Technology: A blend of active peptides and key ingredients that works with the skin to help clear out damaged elastin and collagen and support the skin's natural ability to produce new, healthy elastin and collagen.
Green Tea Extract: Helps reduce the appearance of dark circles.
Niacinamide, Tetrapeptide-30: Helps brighten and even skin tone.
Mimosa Tree Extract & Darutoside: Helps improve the appearance of skin firmness.
Cross-polymer: Polymer microsphere intended to produce immediate light diffusing benefits.
Full Ingredients:
Water/Aqua/Eau, Glycerin, Caprylic/Capric Triglyceride, Cetearyl Alcohol, Dimethicone, Pentylene Glycol, Jojoba Esters, Niacinamide, Palmitoyl Hexapeptide-12, Palmitoyl Tripeptide-1, Tetrapeptide-30, Albizia Julibrissin Bark Extract, Gallyl Glucoside, Sodium Hyaluronate, Epigallocatechin Gallatyl Glucoside, Darutoside, Dunaliella Salina Extract, Ornithine, Phospholipids, Butyrospermum Parkii (Shea Butter) Extract, Glycolipids, Betaine, Tremella Fuciformis Sporocarp Extract, Beta-Glucan, Cetearyl Glucoside, Glyceryl Stearate, PEG-100 Stearate, Silica, HDI/Trimethylol Hexyllactone Crosspolymer, Propanediol, Squalane, Polysorbate 20, Polyacrylate-13, Xanthan Gum, Disodium EDTA, Caprylyl Glycol, Polyisobutene, Caprylhydroxamic Acid, Phenoxyethanol, Propyl Gallate, Ethylhexylglycerin.
Before & After:
Improved Appearance of Wrinkles and Skin Texture Around the Eye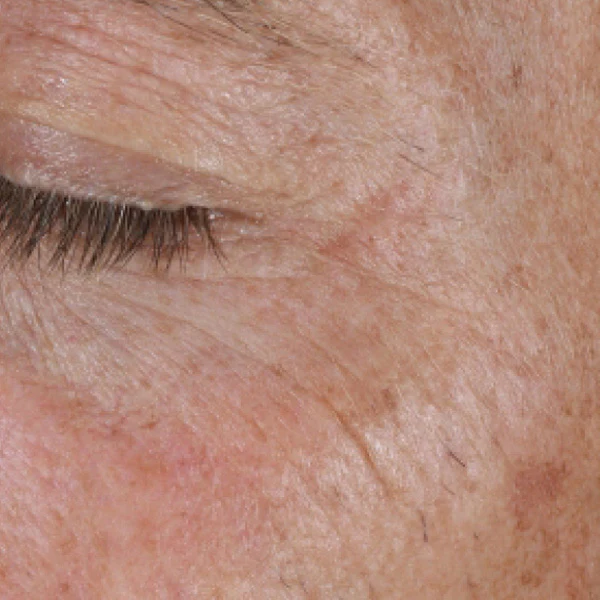 Male, Age 46
Products: Gentle Cleanser, Restorative Skin Complex, Restorative Eye Treatment, Broad Spectrum SPF 30+ Sunscreen
Regimen: All products used twice daily (AM,PM) except Broad Spectrum SPF 30+ Sunscreen (used morning only).
Timeframe: 16 Weeks Photographs are unretouched. Individual results may vary.
Data on file at ALASTIN Skincare®
Improved Appearance of Wrinkles and Skin Texture On the Upper Eyelid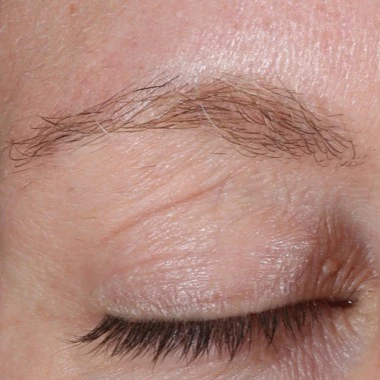 Regimen: Restorative Eye Treatment used twice daily (AM, PM).
Reference: Data on file at ALASTIN Skincare®. Individual results may vary.
Photographs are unretouched.
Clinical Results*:
100% agree their eyes look more youthful*
100% agree the skin around their eyes look more luminous*
90% agree their eyes look less puffy and less tired*
*In a clinical study of 10 subjects ages 30-60 who used Restorative Eye Treatment with TriHex Technology® for 12 weeks
How To Use:
Apply 1 pump to the area around the eye, morning and evening.
Can be placed directly on the upper eyelid, under the brow bone, not directly on the eyelid.
Avoid getting in the eyes. If contact occurs, rinse thoroughly with water.
Frequently Asked Question
Can you use on the upper eyelid?
Restorative Eye Treatment is indicated for application under the eye and under the eyebrow. Avoid the eyelid and around the lash line.
Can I continue use after a procedure?
Please consult with your health care provider.
Can this be used on all skin types?
Yes, it is formulated to be used on all skin types (oily, combination, dry). If you have specific skin concerns, please consult with your health care provider.
What is TriHex Technology®?
Our patented blend of active peptides and botanicals that elegantly support your skin's natural life cycle – promoting the benefits of recycling, rebuilding and replenishing the skin matrix in order to maintain a healthy glow and youthful appearance. Read more information on TriHex Technology  here.
What are peptides?
Peptides are small molecules comprised of several amino acid chain sequences, which like those in TriHex Technology, can have a lipid carrier to help them more easily absorb into the skin where they can support collagen and elastin and other important functions. They are synthetically derived and are not based on human and animal-derived materials. ALASTIN uses well defined peptides which are predictable, therefore we can anticipate their behavior because the amino acid sequence is well known and their function has been demonstrated and proven.
How long will this product last?
This is completely dependent upon use. If using 1 pump, twice a day, it will last approximately 1.5 months.
Why does this product use an airless pump?
This product uses an airless pump packaging. This non-pressurized vacuum dispensing system does not contain a dip tube and instead features a mechanical pump to provide a smoother delivery and more precise dosage. The dispenser also helps maintain the product's integrity by preventing excessive exposure to air and other contaminants. When using your dispenser for the first time, you may need to "prime" it to access your product.
How do you activate the pump?
Step 1: Keeping the cap on, turn the bottle upside down and firmly pat (4 or 5 times) into the palm of your hand.
Step 2: Remove the cap and prime the pump by pressing it several times for the product to begin dispensing. This may take 10-15 pumps.
TIP: If the product does not prime successfully, please repeat both steps. Due to the airless nature of our pumps this may take a few tries.
Do you underfill the product?
We use state of the art airless packaging, which does not contain dip tubes, but rather a diaphragm that rises to evacuate the product. When you depress the pump, it creates a vacuum effect, drawing the product upwards and will allow for almost all of the product to be dispensed without left over. The double wall packaging we use can seem as though there is less product appropriate to the size of the bottle; however, it not only provides extra protection, but our products are over filled to ensure that the label claim volume is what is actually dispensed.
Is it safe to use during pregnancy or breastfeeding?
Please consult with your health care provider.
Are all ALASTIN Skincare products paraben free?
Yes, all ALASTIN Skincare products are paraben-free, as well as gluten-free and cruelty-free.