*** Click on Bottom Images to View Full Size Images
Body Confidence in a Bottle
Use ​​daily for the appearance of tighter, more youthful-looking skin; apply after body-sculpting treatments to help speed up/improve results.
Benefits:
Helps reduce appearance of crepey skin anywhere on the body, including arms, hands, and knees.
Hydrates skin from the inside out with key botanicals that support the production of hyaluronic acid and glycosaminoglycans.
Includes TriHex Technology® to support the production of new, healthy elastin and collagen.
When used to complement body-sculpting treatments, the peptides in our patented LipoDRONE® delivery system help you achieve the appearance of even firmer, more toned skin on the body.
Winner of the SHAPE Skin 2020 "Next-Gen Body Treatment" award.
Winner of the New Beauty 2021 "Best Post-Procedure Body Treatment" award.
Key Ingredients:
Lipodrone®: Helps achieve the appearance of even firmer, more toned skin on the body.
TriHex Technology®: A blend of active peptides and key ingredients that works with the skin to help clear out damaged elastin and collagen and support the skin's natural ability to produce new, healthy elastin and collagen.
Dill Extract: Helps improve the texture of the skin.
Hexapeptide-11: Supports the body's natural detoxification and repair process to help enhance the appearance of tighter, firmer, and more sculpted body and skin following an in-office treatment.
Acetyl Tetrapeptide-2 & Dill Extract: Help to increase elastin production, improving the texture of the skin.
Linseed Extract: Help to increase GAGs and HA production for improved hydration
Linseed Extract, Plantain Leaf: helps with the appearance of firmness, smoothness, and pigmentation.
Full Ingredients:
Water/Aqua/Eau, Caprylic/Capric Triglyceride, Squalane, Glycerin, C12-16 Alcohols, Dimethicone, Cetearyl Alcohol, Palmitic Acid, Caffeine, Hexapeptide-11, Palmitoyl Tripeptide-1, Palmitoyl Hexapeptide-12, Phosphatidylserine, Oleuropein, Plantago Lanceolata Leaf Extract, Centella Asiatica Extract, Butyrospermum Parkii (Shea) Butter Extract, Glaucium Flavum Leaf Extract, Persea Gratissima (Avocado) Fruit Extract, Olea Europaea (Olive) Leaf Extract, Acetyl Tetrapeptide-2, Hydroxymethoxyphenyl Decanone, Dunaliella Salina Extract, Peucedanum Graveolens (Dill) Extract, Linum Usitatissimum (Linseed) Seed Extract, Euglena Gracilis Extract, Hydrolyzed Candida Saitoana Extract, Xanthan Gum, Hydrogenated Lecithin, Bentonite, Helianthus Annuus (Sunflower Seed Oil), Lecithin, Sclerotium Gum, Pullulan, Propanediol, Caprylyl Methicone, Butylene Glycol, Phospholipids, Tocopherol, Ascorbyl Palmitate, Citrus Aurantium Dulcis (Orange) Peel Oil, Disodium EDTA, Ethylhexylglycerin, Caprylyl Glycol, Caprylhydroxamic Acid, Phenoxyethanol.
Before & After:
63% Reduction in Crepiness When Used as a Daily Skincare Treatment
Female, age 61
Regimen: Patient treated both arms with TransFORM Body Treatment twice daily and no procedure was performed.
Imaging Equipment: photos were taken with the QuantifiCare LifeViz® Infinity camera & validated software.
Timeframe: 8 weeks
Photographs are unretouched. Individual results may vary.
Data on file at ALASTIN Skincare®
59% Change In Elasticity After 12 Weeks Of Use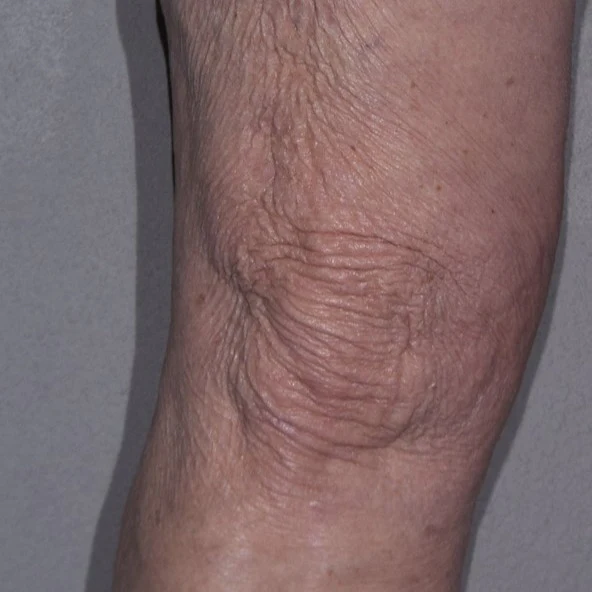 Female, age 77
Regimen: TransFORM Body Treatment applied to legs twice daily and no procedure was done.
Imaging Equipment: QuantiCare LifeViz® Infinity and DermaLab® Series, Skin Lab Combo (Cortex Technology).
Reference: Data on file at ALASTIN Skincare®. Individual results may vary. Photographs are unretouched.
How To Use:
Apply 2-3 pumps in the morning and evening to desired or treated areas on the body
Frequently Asked Question
Due to using TransFORM Body Treatment, can I eliminate fat without having a body-sculpting procedure done?
TransFORM Body Treatment works synergistically with body-sculpting procedures. It is not intended to be used for fat-loss as a standalone product.
Will I still see any benefits if I use as a daily body skincare treatment, without having a body-sculpting procedure done?
Yes, by using TransFORM Body Treatment as part of your daily skincare, it improves the appearance of skin texture, laxity and crepiness.
Can this be used on all skin types?
Yes, it is formulated to be used on all skin types (oily, combination, dry). If you have specific skin concerns, please consult with your health care provider.
What is TriHex Technology®?
Our patented blend of active peptides and botanicals that elegantly support your skin's natural life cycle – promoting the benefits of recycling, rebuilding and replenishing the skin matrix in order to maintain a healthy glow and youthful appearance. Read more information on TriHex Technology® here.
What are peptides?
Peptides are small molecules comprised of several amino acid chain sequences, which like those in TriHex Technology®, can have a lipid carrier to help them more easily absorb into the skin where they can support collagen and elastin and other important functions. They are synthetically derived and are not based on human and animal-derived materials. ALASTIN uses well defined peptides which are predictable, therefore we can anticipate their behavior because the amino acid sequence is well known and their function has been demonstrated and proven.
How long will this product last?
This is completely dependent upon use and areas treated. If using 2 pumps on each treated side (i.e. both arms), twice a day, it will last approximately 3 months.
Why does this product use an airless pump?
This product uses an airless pump packaging. This non-pressurized vacuum dispensing system does not contain a dip tube and instead features a mechanical pump to provide a smoother delivery and more precise dosage. The dispenser also helps maintain the product's integrity by preventing excessive exposure to air and other contaminants. When using your dispenser for the first time, you may need to "prime" it to access your product.
How do you activate the pump?
Step 1: Keeping the cap on, turn the bottle upside down and firmly pat (4 or 5 times) into the palm of your hand.
Step 2: Remove the cap and prime the pump by pressing it several times for the product to begin dispensing. This may take 10-15 pumps.
TIP: If the product does not prime successfully, please repeat both steps. Due to the airless nature of our pumps this may take a few tries.
Do you underfill the product?
We use state of the art airless packaging, which does not contain dip tubes, but rather a diaphragm that rises to evacuate the product. When you depress the pump, it creates a vacuum effect, drawing the product upwards and will allow for almost all of the product to be dispensed without left over. The double wall packaging we use can seem as though there is less product appropriate to the size of the bottle; however, it not only provides extra protection, but our products are over filled to ensure that the label claim volume is what is actually dispensed.
Is it safe to use during pregnancy or breastfeeding?
Please consult with your health care provider.