*** Click on Bottom Images to View Full Size Images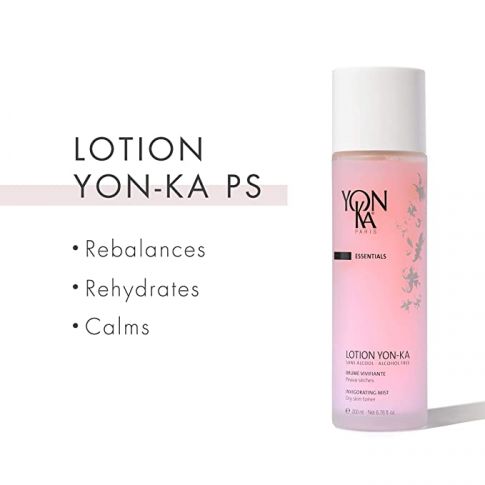 Refreshing, Invigorating Toning Mist
Naturally refresh, soothe and hydrate dry, sensitive skin.
Our hydrating toner for dry skin optimizes your skin care routine as it refreshes and invigorates skin. Composed of 99% ingredients of natural origin, this versatile healing water drenches skin with the solar-charged energy of five essential oils for a multi-beneficial toning, purifying and invigorating effect. This alcohol free toner delivers an immediate, refreshing boost that deeply hydrates dry, dehydrated skin. With a delicate aroma, it soothes skin and energizes the body while enhancing the benefits of your personal treatment regimen. Our iconic toning mist is a must-have, daily pick-me-up for those with normal, dry or sensitive skin.
Naturally refreshing toner for normal, dry and sensitive skin made with 99% natural ingredients.
Versatile toning mist tones, hydrates and invigorates skin.
Iconic treatment infused with our proprietary Yon-ka Quintessence composed of five essential oils for multiple healing benefits.
Aromatherapeutic blend balances the mood and energizes the mind and body.
Deeply hydrates skin, refines the look of pores, and balances skin' natural pH.
Application:
In the morning and evening, spray a generous amount of lotion onto the face and neck after cleansing. Massage in any excess. Can be used at any time of the day for an immediate and refreshing boost. Calms sunburn and insect bites when applied with a compress. Can also be used as a complement to Masque 105 by spraying the lotion on the mask to reinforce its action.
Ingredients:
200 ml 99% Natural Ingredients
Key ingredients: 200 ml.
99% natural ingredients
Quintessence Yon-Ka : essential oils of Lavender, geranium, rosemary, cypress, and thyme – balancing –REevitalizing – purifying
Plant glycerin – hydrating
Other ingredients: Water, Glycerin, Lavandula Angustifolia (Lavender) Oil, Pelargonium Graveolens(Geranium) Leaf Oil, Rosmarinus Officinalis (Rosemary) Leaf Oil, Cupressus Sempervirens (Cypress) Oil, Thymus Vulgaris (Thyme) Flower/Leaf Oil , Peg-35 Castor Oil, Chlorhexidine Digluconate, Red 40/Ci 16035, Linalool *, Citronellol *, Geraniol *, Limonene *, Coumarin *
*Natural Components Of Essential Oils
*Ingredients may be subject to change. The most accurate and up to date product ingredient list can also found on the product packaging.
Frequently Asked Question
When to use a toner?
Use Lotion Yon-Ka toner am/pm after cleansing. You can also spray as needed throughout the day to refresh the skin.
How to use toner?
Morning and evening, cleanse the skin, and follow with Lotion Yon-Ka. Spray the skin about 6 times until it's lightly damp, then penetrate gently.
How does a toner work?
Lotion Yon-Ka are aromatherapy toners featuring Quintessence, and are alcohol free. These refresh and rebalance the skin.